Our current groups are not accepting new participants.
Registration for Spring Groups opens Monday, March 29th.
Often times, healing in group spaces can bring a feeling of connection and empowerment. BAWAR is proud to offer three types of online groups via Zoom in 2021.
Skills Groups
Grupos de habilidades
Skills Groups focus on sharing and developing specific coping skills to further personal healing psychoeducation. Participants may have homework or practice certain activities (like mindfulness, self-soothing, or journaling) during a skills group. Group Facilitators bring a skill and teach that skill to the group.
Support Groups
Grupos de apoyo
Support Groups bring together people with something common with a goal of bringing peace of mind and support to others. Participants in a support group will be expected to share some part of their story with the group, while everyone else listens, without judgement. Group Facilitators interact with whomever is sharing and keep the group moving.
Therapy Groups
Grupos de terapia
Therapy groups are facilitated or co-facilitated by trained mental health professionals. These groups may focus on specific mental health symptoms or participants might share a specific diagnosis. Mental health professionals who facilitate therapy groups will encourage participants to process their feelings out loud during the group.
Winter 2021 Group Offerings (January – March)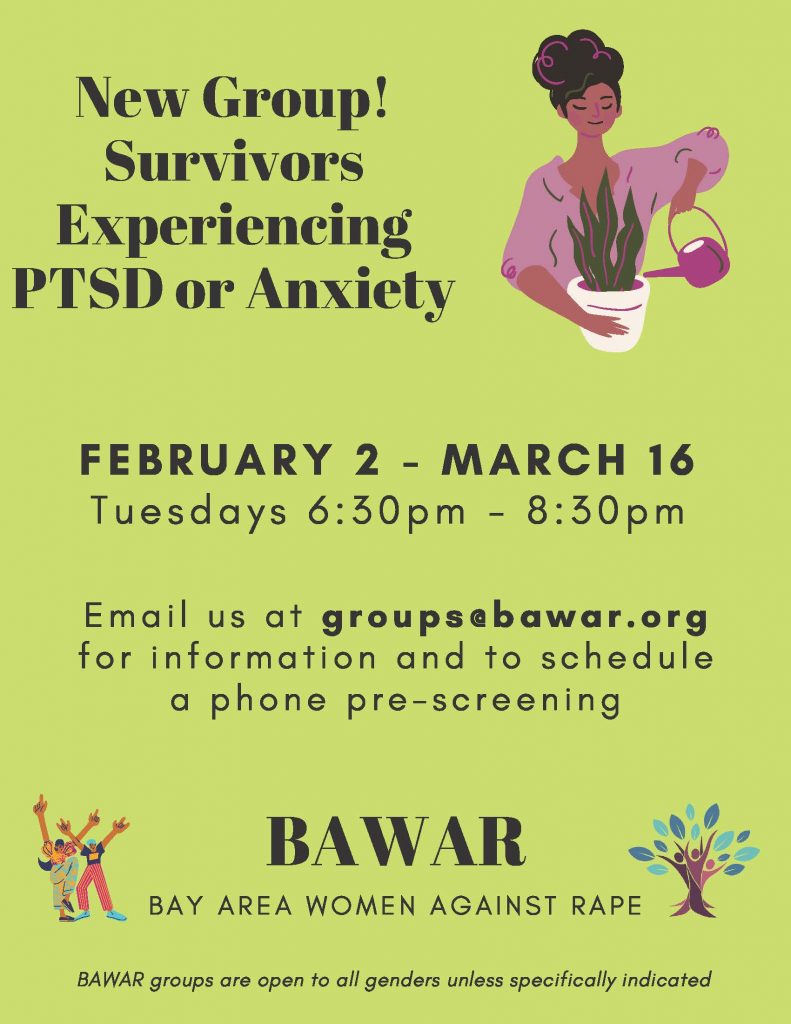 Survivors Experiencing Post Traumatic Stress Disorder (PTSD) or Anxiety is a therapy group co-facilitated by a Licensed Clinical Social Worker (LCSW) and a seasoned and certified rape crisis counselor. This group will be completely in English and is open to survivors of all genders and experience. You may be asked to share information confidentially about mental health diagnoses and any ongoing mental health treatment you are participating in, in addition to joining our group.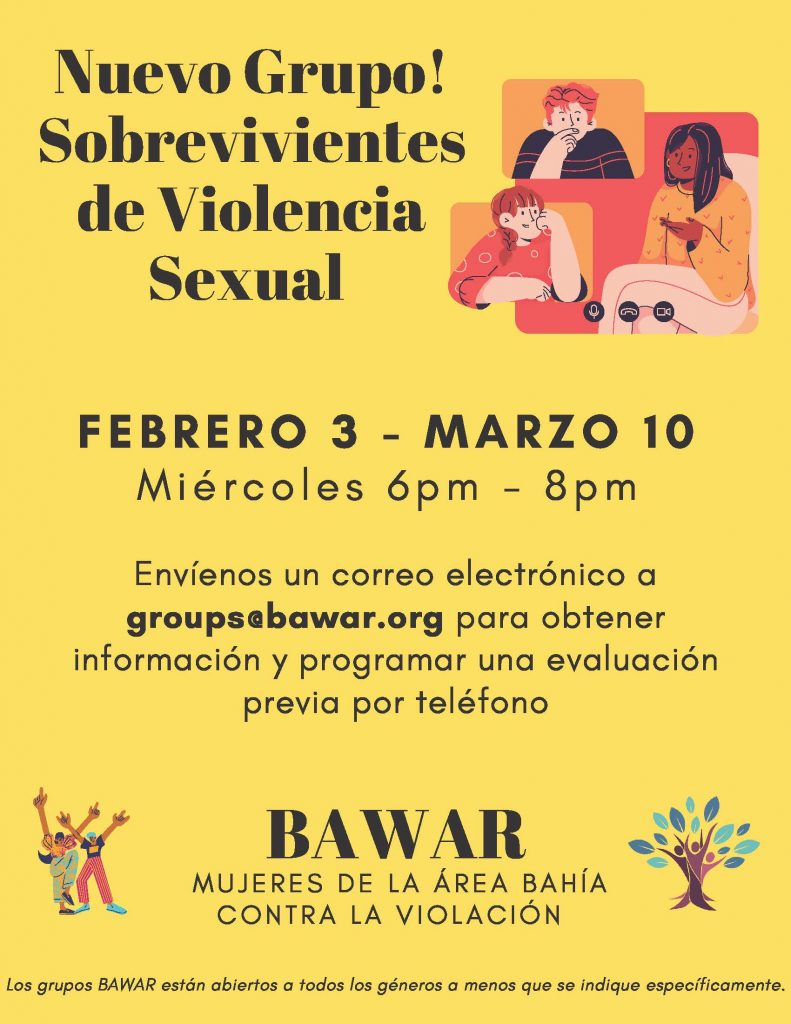 Sobrevivientes de Violencia Sexual es un grupo de apoyo facilitado por el defensor principal de VIVA !. Este grupo estará completamente en español y está abierto a sobrevivientes de todos los géneros y experiencias.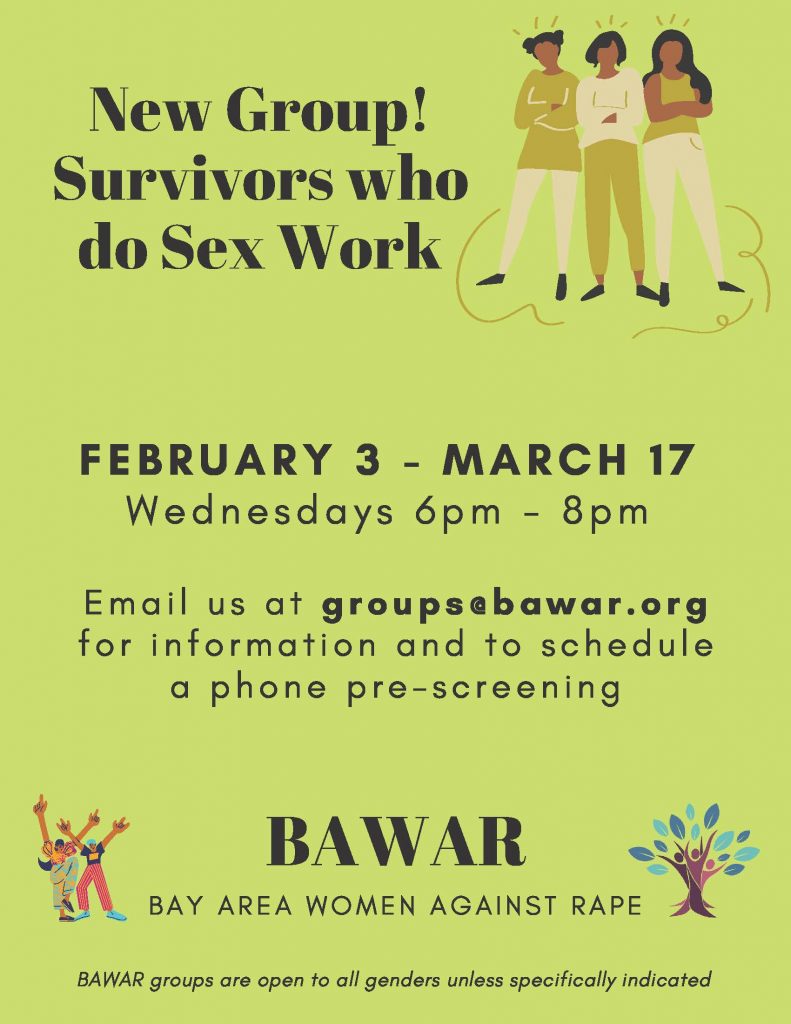 Survivors who do Sex Work is a support group facilitated by a seasoned certified rape crisis counselor with years of experience supporting people who do sex work. This group will be completely in English and is open to adult survivors of all genders who also earn a living voluntarily doing sex work.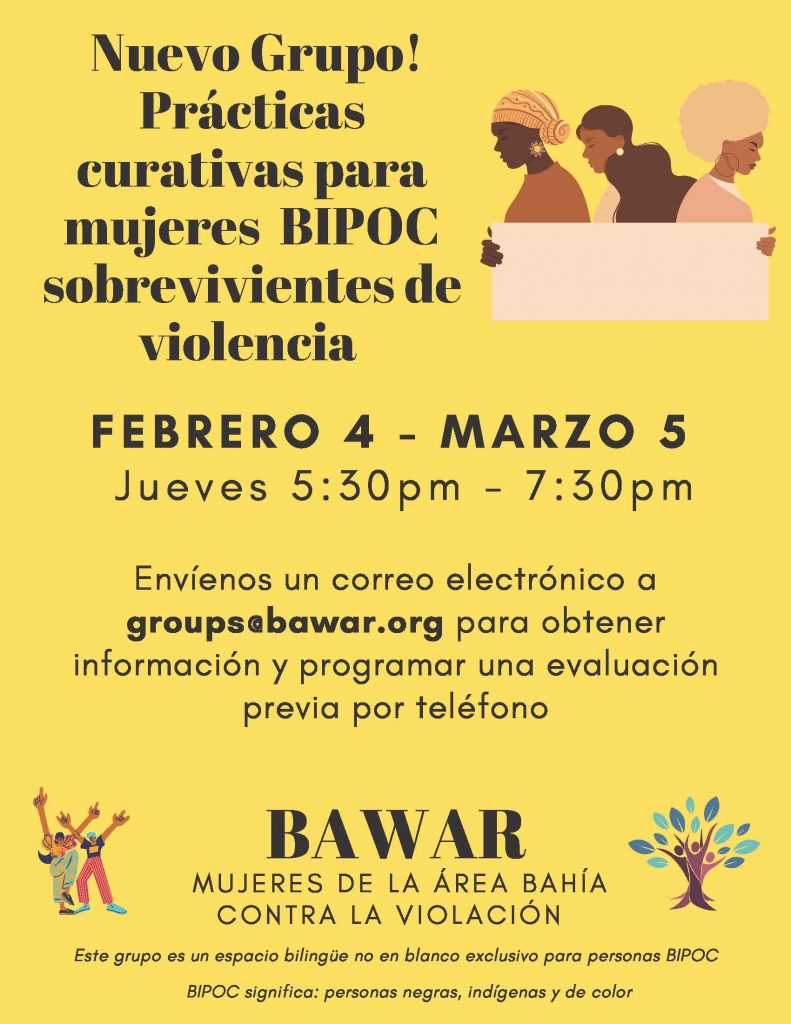 Prácticas curativas para
mujeres BIPOC (personas negras, indígenas y de color) sobrevivientes de violencia es un grupo de habilidades bilingües para mujeres sobrevivientes de violencia sexual. Este grupo es específicamente para personas que no son de raza blanca, por lo que le preguntaremos sobre la raza / etnia durante la evaluación previa del teléfono.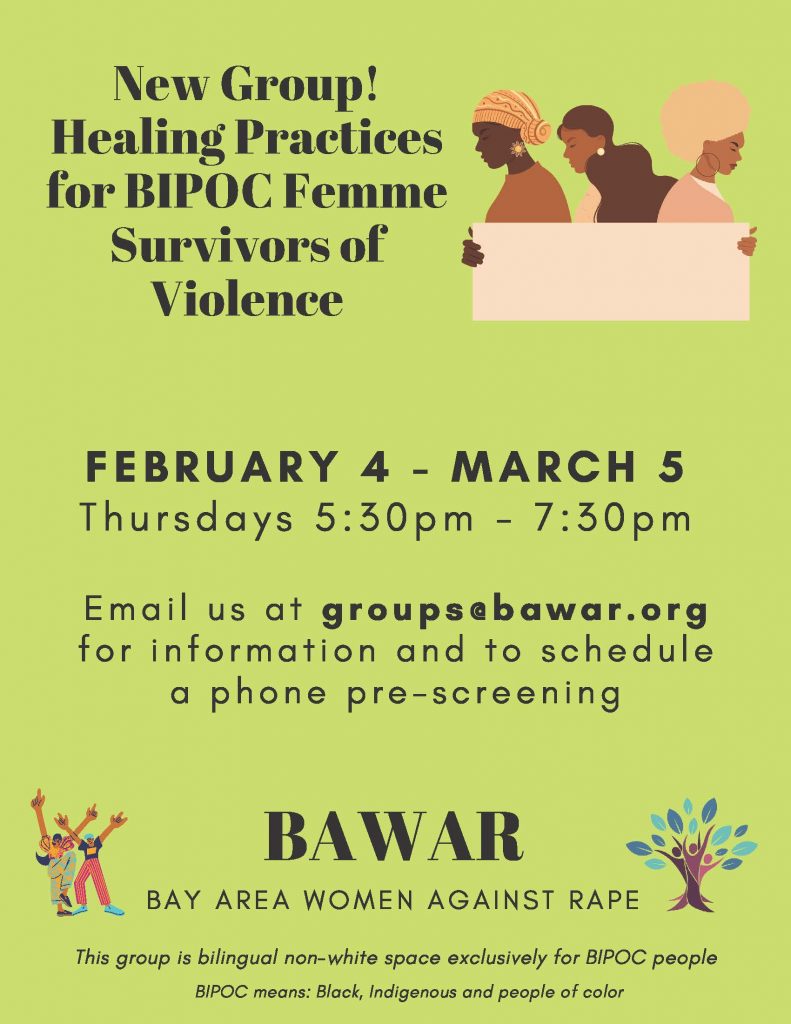 Healing Practices for BIPOC Femme Survivors of Violence is a bilingual skills group for femme survivors of sexual violence. This group is intentional non-white space so we will be asking about race/ethnicity during the phone pre-screening.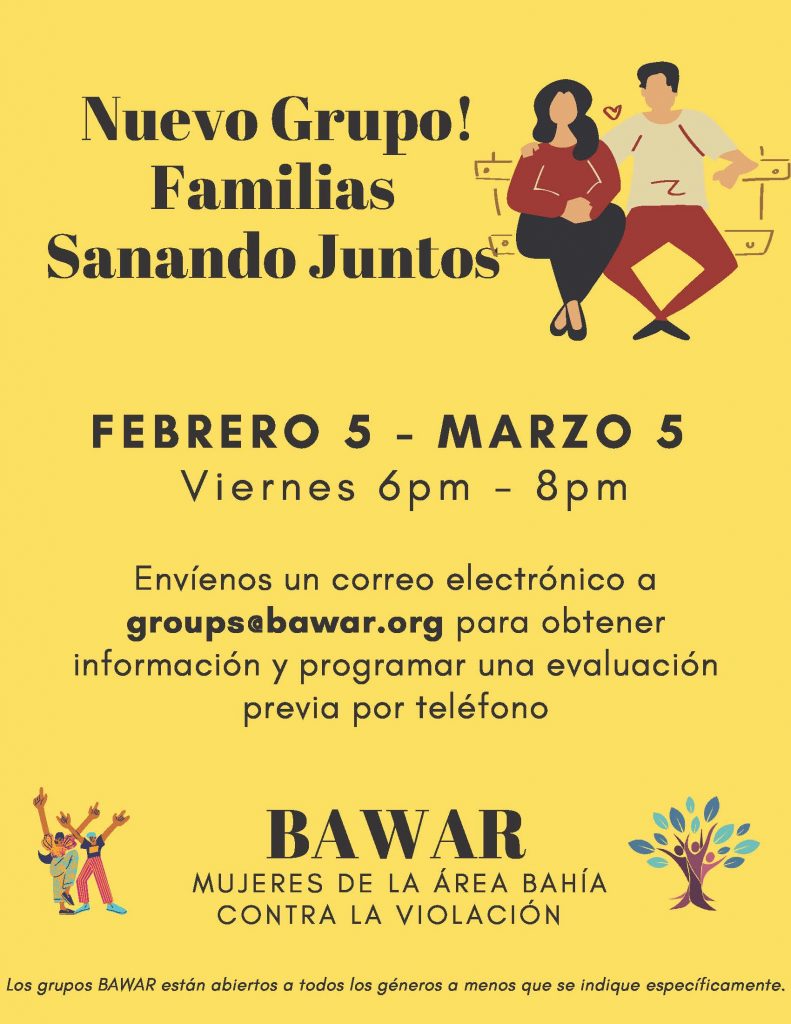 Familias Sanado Juntos es un grupo de apoyo para familias cuyo ser querido es un sobreviviente de violencia sexual. Este grupo incluirá hasta 3 familias con hasta 4 miembros de la familia cada una, incluidos los sobrevivientes. Este grupo está completamente en español y todas las familias participantes deben hablar español fluido / semi-fluido para asegurar que todos puedan interactuar.
Bay Area Women Against Rape
470 27th Street
Oakland, CA 9461