Welcome to our Online Support Groups Information Page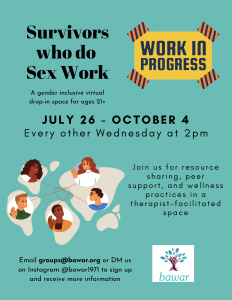 #SurvivorsWhoDoSexWork is back. 21+, drop-in, gender expansive, and facilitated by a trained professional. Register by emailing groups@bawar.org
to be notified about new group offerings and services for survivors.
2022 Groups Archive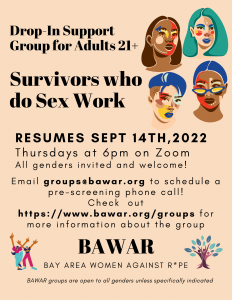 Survivors who do Sex Work is a support group facilitated by a seasoned certified sexual assault counselor with years of experience supporting people who do sex work. This group is facilitated in English and is open to adult survivors of all genders who also earn a living voluntarily doing sex work. This is not a group for people currently or recently experiencing human trafficking.
Paso a paso: Grupo de apoyo para padres de sobrevivientes
Paso a Paso es un grupo de apoyo entre pares cofacilitado en español por dos consejeras certificados en agresión sexual con experiencia en apoyar a padres de adultos y menores sobrevivientes de violencia sexual.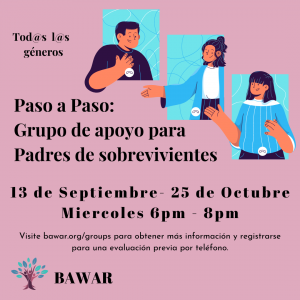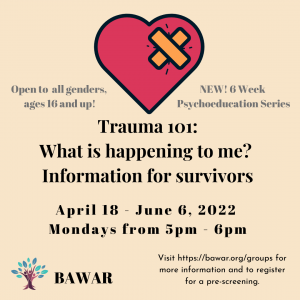 Trauma 101: Information for Survivors
This skills and psychoeducation group is for people of any gender, ages 16 and up, and is facilitated in English by a mental health professional. This is not a process group and individual trauma narratives will not be discussed. We will talk about the common impacts of trauma on a person's emotional, mental, and physical health. Each group will have a general topic and digital materials will be made available for participants.
Survivors of Campus Violence is a support group facilitated in English by a qualified sexual assault counselor. This group is open to survivors of all genders who experienced sexual violence while on a college campus.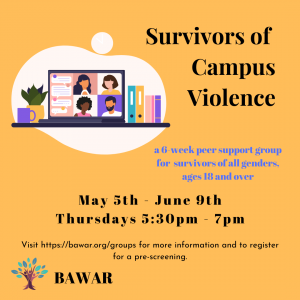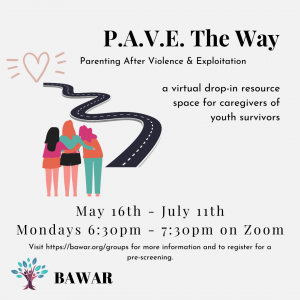 PAVE The Way (Parenting After Violence & Exploitation) is a drop-in resource group for adult caregivers of youth who have been directly impacted by human trafficking and exploitation. It is co-facilitated in English and Spanish by experienced community-based advocates who also work with youth directly.
*
PAVE The Way (Paternidad después de la violencia y la explotación) es un grupo de recursos para adultos que cuidan a jóvenes que han sido afectados directamente por la trata de personas y la explotación. Está cofacilitado en inglés y español por defensores comunitarios experimentados que también trabajan directamente con los jóvenes.